WINDHOEK, Namibia – The Ministry of Health and Social Services (MoHSS) in partnership with the UNFPA, World Health Organisation (WHO), Centers for Disease Control and Prevention (CDC) and the Namibia Statistics Agency (NSA) launched the COVID-19 Situation Dashboard on 1 June 2020.       
The interactive data Dashboard will keep the general Namibian population up to date with statistical information to monitor the coronavirus disease in the country. The site includes information about the number of confirmed cases in Namibia, individuals tested, active cases, recoveries and total deaths.  The data also includes identified contacts, total people quarantined as well as breakdown of the confirmed cases by region.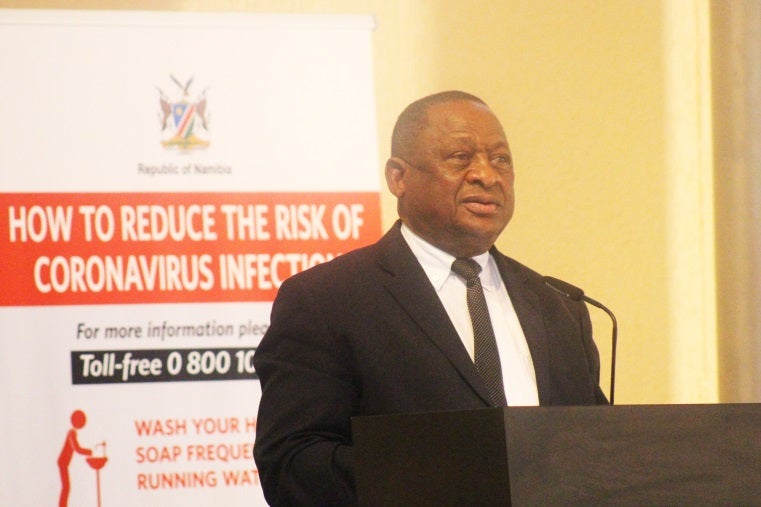 Health Minister Kalumbi Shangula thanked all partners involved in data management under the Surveillance Pillar for their tireless work to ensure that the public is well informed.
 "The COVID-19 Situation Dashboard will be updated on a daily basis and is available to everyone online," Dr. Shangula said, encouraging the public to visit the site more often.
As part of the launch, UNFPA Country Representative, Ms. Dennia Gayle participated in the panel discussion with focused on the importance of data in the context of the coronavirus pandemic.
"This Dashboard that we are seeing today is really an excellent example of democratisation of data," said Ms. Gayle.
"The information around #COVID19 now is available to everyone. It means that academic institutions can use this information to undertake research; development partners can use this information to have a discussion as to where we allocate our scarce resources to assist the government in the response. It also means that the Ministry of Health is in the capacity of understanding where and how this pandemic is spreading and what actions need to be undertaken to contain it," she said.
The Dashboard indicators were crafted by a team of experts from the Ministry of Health, WHO, UNFPA and CDC, while NSA developed the Dashboard architecture. UNFPA is also supporting NSA to renew the license for the maintenance of dashboard software.
As of 11 June 2020, the dashboard reported 31 confirmed COVID-19 cases of which 16 (51.6%) have recovered. No COVID-19 associated deaths have been reported.
The dashboard can be found at https://gisserver.nsa.org.na/portal/apps/opsdashboard/index.html#/e8d79f18bd424670b7db99d56866573f