Events
Main events calendar
Upcoming Events

12 November 2019 - 14 November 2019
Nairobi, Kenya
Accelerating the promise
This year marks the 25th anniversary of the ground breaking International Conference on Population and Development (ICPD), which took place in Cairo in 1994. At that conference, 179 governments adopted a Programme of Action, recognizing that reproductive health, women's empowerment and gender equality are the pathway to sustainable development. 
Details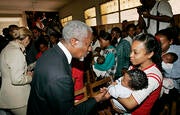 18 August 2018 - 19 September 2019
Namibia
New York - I am deeply saddened to learn of the death of Kofi Annan, who throughout his exemplary career worked tirelessly for a more just and peaceful world, based on our shared humanity and fundamental values rooted in universal human rights. 
He promoted dialogue and celebrated diversity – of thought, belief and action. He inspired young people around the world and championed their leadership.
Details