WINDHOEK, Namibia – Twenty-four-year-old Linea Waandja has not had an easy life. Waandja was diagnosed with polio in 1999, when she was three years old.
Learning to cope with new way of life presented a lot of challenges which Waandja struggled with at first and soon became acquainted to, now she perseveres to do things on her own.
"My mother told me that one morning I woke up with a high fever, my legs were weak, I couldn't stand on them and could barely lift my arms. She then rushed me to the hospital where I was tested for polio. Unfortunately, the test came back positive," said Waandja.
"After a few weeks, both of my arms and my right leg recovered however my left leg did not improve. I had to learn to adapt to leg braces as a child and learn to walk again."
Waandja is one of the beneficiaries of the United Nations Population Fund (UNFPA)'s dignity kits.
The dignity kits are given to help beneficiaries maintain basic hygiene and sanitation; restore a sense of dignity and self-assurance amidst the ongoing drought in Namibia that has disrupted somewhat  their day to day lives.
The kit consists of a 2kg washing powder, sanitary pads, bathing soaps, underwear, tooth paste, tooth brush, and a back pack.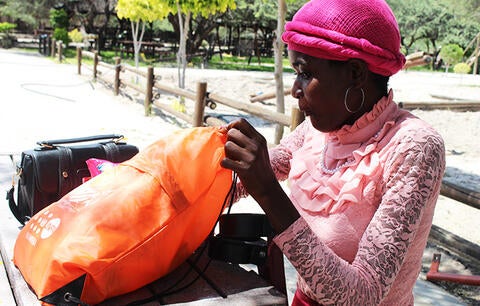 Waandja, who is a first time recipient of the dignity kit, expressed her gratitude to UNFPA Namibia for the initiative.
"I cannot remember the last time I ever received a dignity kit. I'm so happy to receive this kit. Every item in this bag means a lot to me," she said.
"I am unemployed and cannot always afford to buy toiletries," said Waandja who lives with her grandmother at Shandi Settlement in the Ondobe Constituency of Ohangwena Region. They currently survive on handouts from public and the government drought relief programme.
Like many of her peers living with disabilities, Waandja was unable to complete her high school education as a result of her health condition.
Speaking during the handover of the dignity kits, UNFPA Country Representative Dennia Gayle underscored the importance of empowering young people living with disabilities with the necessary tools to make decisions about their health, education, employment and life aspirations.
"More than 1 billion people live with a disability and nearly 200 million are between the ages of 10 and 24. Yet young people with disabilities are often invisible in statistics, excluded from education and health services, and discriminated against in their own communities," Gayle noted.
Additionally, Ms. Gayle emphasised that universal human rights and universal health care meant rights and healthcare for all, without discrimination.
"Young people with disabilities have the same rights as everyone – and the protection of their sexual and reproductive health and rights is foundational to their ability to unlock their potential and opportunities and determine their own futures," she said.
Meanwhile, Namibia's 2011 Census estimated that 4.7 per cent of the Namibian population lives with some form of disability. Large proportions of persons with disabilities were recorded in the age brackets of 10 – 14 years old to 20-24 years of age, which translates to 8.1% and 8.2% of the population respectively. The same Census also estimated that the proportion of people living with disabilities was higher in rural areas (5.7%) than in urban areas (3.3%).
A total of 3500 dignity kits valued at N$954 000 are initially distributed to six regions in Namibia namely, Kavango East, Kunene, Omusati, Zambezi, Ohangwena and Kavango West. After that, a second batch of 6000 kits are set to be distributed to a further in the same six regions and are valued at a total of N$ 1, 428 000.
Emma Mbekele