"If someone had told me that I would one day be subjected to domestic violence, I would not have believed it. I was raised to be a strong and independent woman. Many times I have asked myself why I did not reach out for help in almost a decade.  
"He drank heavily and in my opinion was a functioning alcoholic. He tormented me with the thought of killing himself, saying that his family and the authorities would find his body the next morning and I would be locked up for murder.
"As the days, months and years of abuse continued, he took everything from me and destroyed my self-esteem. I convinced myself that I was useless, fat, ugly, dumb, a b**** – whatever he had been calling me.
Take the step and move on; your future self will be grateful for the decision you took today to let go. - Lelanie Basson
"He would threaten my life and that of my son. He strangled and punched me more times than I can remember. I reached out to the police but my pleas fell on deaf ears. During the separation and divorce proceedings he denied us access to clothes, school books and all personal belongings."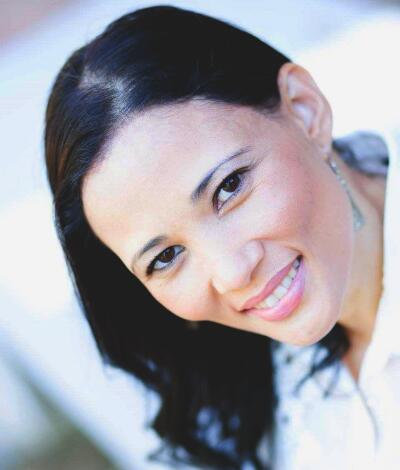 'Live your best life'
These are the words of Lelanie Basson, now a best-selling author and entrepreneur, speaking about the abusive relationship she finally found the courage to leave. She has this message for other women suffering abuse:
"You deserve to live your best life. That does not include having to cover up bruises on your body, wiping blood off the kitchen counter, struggling for air, being raped, having to rush to hospital or a police station in the middle of the night, sleeping out in the cold, insults and foul language (being) hurled at you, having thoughts of self harm, or your children watching or being subjected to the same brutality.
"You deserve to be happy, loved and fulfilled. Take the step and move on; your future self will be grateful for the decision you took today to let go. Leaving permanently is the only thing that will change the situation for the better. Most of all, believe in yourself," she says.
Extent of gender-based violence in Namibia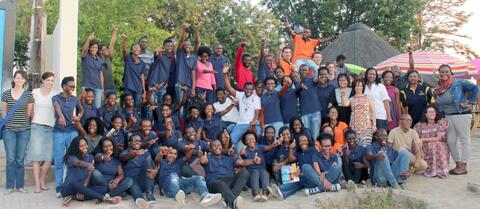 It is because of women's experiences such as this that UNFPA Namibia held its first ever Gender-Based Violence (GBV) Hackathon, which brought together computing enthusiasts, young student coders, professionals and GBV experts to create innovative technology-based solutions, both mobile- and web-based, to help combat GBV.
GBV is a persistent problem in Namibia and disproportionally affects women and girls. About 33 per cent of ever-married women aged 15-49 years have experienced physical, sexual, and/or emotional violence from their spouse and have suffered one or more physical injuries, according to the 2013 Namibia Demographic Health Survey. Twenty-eight per cent of women and 22 per cent of men aged 15-49 years justify beating as an acceptable way for a husband to discipline his wife.
The aim of the hackathon was to complement ongoing national efforts against GBV. The 24-hour event was sponsored by UNFPA Namibia and hosted by the Namibia University of Science and Technology (NUST) and partners. The project was supported by the Namibia Women in Computing Society and Google Developers Group Windhoek, in collaboration with the Office of the First Lady.
Preventing and responding to GBV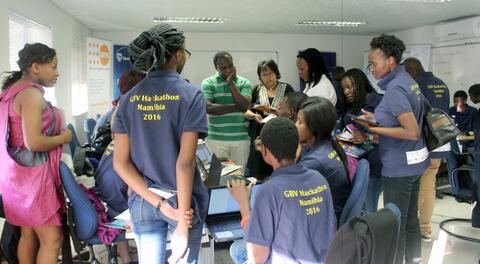 The solution focused on addressing the bottlenecks and gaps, particularly for prevention of and response to GBV. The teams presented five interactive mobile-based solutions and three that were web-based, for users including women, men, children and young people. They also targeted people living with disabilities – for example, those who use sign language.
With the click of a button or a short-message service (sms), the solutions provide single or multiple platforms to access prevention information and response, including support services. Users are given the option of self-assessing their level of risk to GBV, sending messages signalling they are in danger to supporters whose details are pre-installed in their phone, initiating completion of an online protection order application, reporting experienced/or witnessed violence, and the ability to access referral services, support groups and I-stories. 
Technology can be a powerful force that opens exciting opportunities. - Beaton Nyamapandi, Team Amani captain
And the winner is…
Team 'Amani' won first prize for an impressive project that features a panic button and a live video feed that a GBV survivor can use to record their abuse and send to the relevant authorities.
Said team captain, Beaton Nyamapandi: "Technology can be a powerful force that opens exciting opportunities. I hope that our apps and other solutions from this hackathon will help civil society and non-profit organizations to better achieve their missions and collaborate with other partners."
Second place went to Orange IT solutions, for a single app/web that delivers services and information from multiple service providers. Survivors can report online via a chat, hence there is no need to talk. The team also developed a back-end solution for the support provider called 'Lifeline-Childline', a welfare organization that provides a 24-hour crisis intervention service to all sectors of the community. Survivors are able to send information to a case management system, saving 25-50 per cent time on calls to agents). The app users' locations are also known to Lifeline.
Finishing third and fourth respectively were teams SaveALife and CODE Geeks.
UNFPA addresses GBV in Namibia
GBV is a human rights violation, a public health challenge, and a barrier to civic, social, political, and economic participation. UNFPA Namibia supports the implementation of international agreements, national and sub-sector policies and programmes, a multi-sectoral response, data and research on gender-based violence and sexual violence. 
The support is provided through partnership with government, civil society organizations and other partners based on national development priorities. Interventions include advocacy, policy dialogue and advice, knowledge management and institutional capacity strengthening for the prevention of and response to sexual violence and GBV.
By Emma Mbekele