WINDHOEK, Namibia —"Around one in five women will experience a mental health problem during pregnancy or shortly after giving birth, but maternal mental health disorders are treatable." 
This was said by Julieta Kavetuna, Deputy Minister of Health and Social Services, Namibia, at the opening of the International Confederation of Midwives (ICM) regional conference in Windhoek."The issue of postpartum mental health illness is important not only because of the effects on the mother's health, but because the effects on the child's health may impact their emotional, cognitive and even physical development," she said.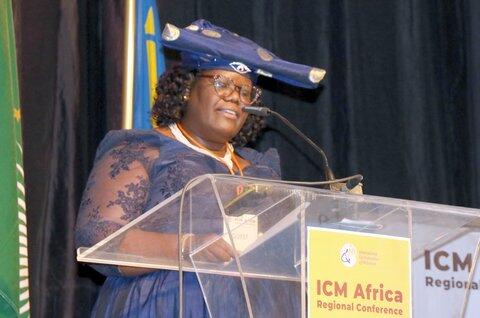 "Effective inventions can be delivered even by well-trained non-specialist health workers," she added. 
ICM Global Goodwill Ambassador Toyin Saraki said that "when a woman is showing signs of mental health challenges, instead of the light being shone on her to overcome it," she often does not receive the support she needs.
Effective inventions can be delivered even by well-trained non-specialist health workers.
Globally, an estimated 10 per cent of pregnant women and 13 per cent of women who have given birth experience a mental disorder, primarily depression, according to the World Health Organization. However, the rate is higher in developing countries at around 16 per cent during pregnancy and 20 per cent after child birth. In severe cases, a mother's suffering may be so severe that she commits suicide.
Perinatal mental health problems are associated with increased physical illness and higher mortality among women and children, according to the UNFPA report Emerging Issues - Mental, Sexual, and Reproductive Health. Mental health problems are associated with risky sexual behaviour and substance abuse, which can lead to unintended pregnancy, gender-based violence and sexually transmitted infections including HIV, the report reads.
The theme of the conference, held from 12 to 14 September, was 'Midwives Leading the Way for Quality and Equity in Africa'.
- Derick Nyasulu